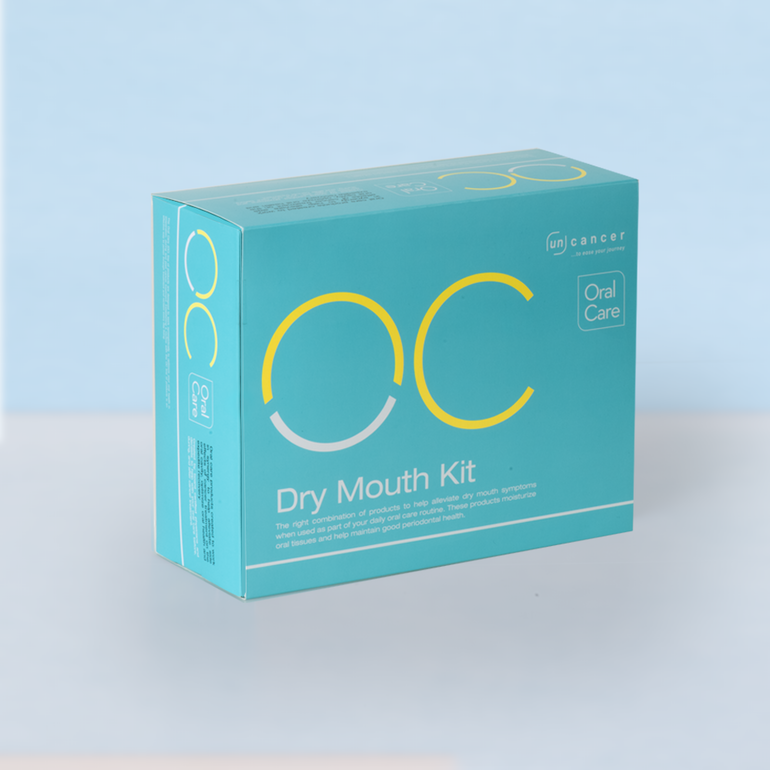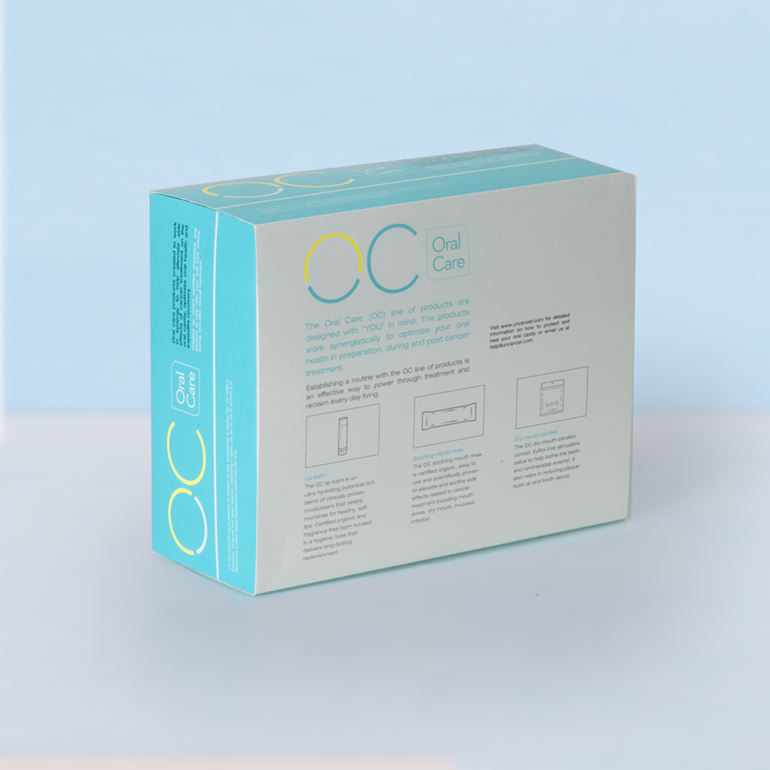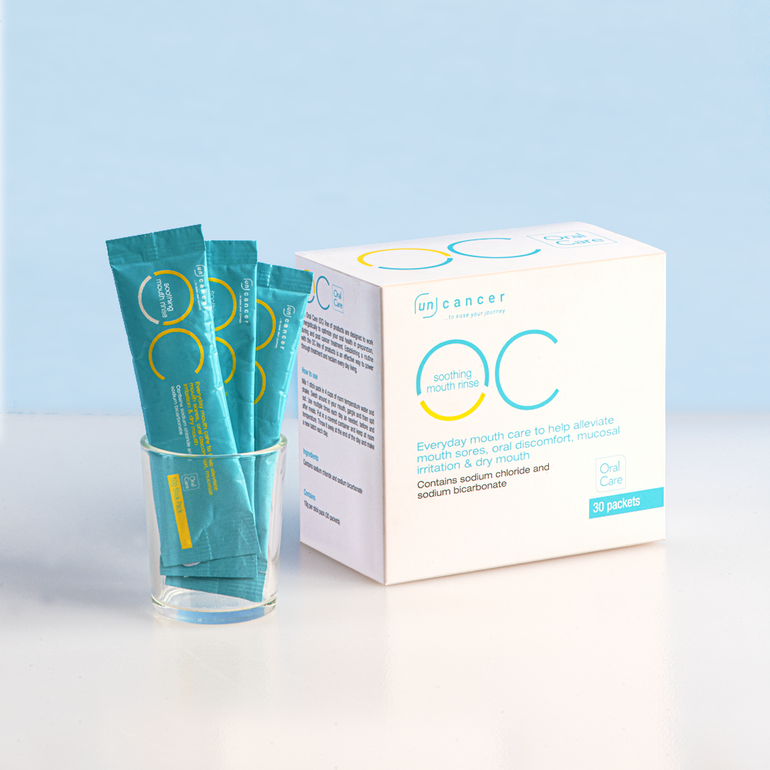 The Oral Care Dry Mouth Kit contains 3 science-backed products designed to work synergistically to relieve mucosal irritation and increase saliva production, during and post cancer treatment. Make it a part of your everyday oral care routine. It is an effective way to manage dry mouth symptoms caused by the side effects of treatment.
What's Inside the Kit
Soothing Mouth Rinse

Lip Balm

Dry Mouth Candies
The salt and soda mouth rinse is a certified organic, easy-to-use, and science backed gentle mouth rinse. It helps to reduce plaque build-up, and remove food and other debris from the mouth. It works alongside the other products in the OC kit to maintain good periodontal health.
Ingredients
Sodium chloride, sodium bicarbonate
Why it's good for cancer patients
It is specially formulated to help alleviate the side effects related to cancer treatment including mouth sores, mucosal irritation and inflammation. It is neutral in flavor, encourages a good flow of saliva that keeps the mouth moist and brings soothing relief from dry mouth during or post cancer treatment.
SLS-free
Alcohol-free
Gluten-free
Sulfate-free
Triclosan-free
No artificial flavors
No artificial colors
How to use it
Rinse your mouth at least 4 times a day after meals and before bed. Do this more often if your mouth is sore, you have thick mucus, or per your cancer care team instructions. Mix the contents of one sachet in 32 ounces (4 cups) water in a covered bottle and shake. Swish around in your mouth, gargle and then spit out. Leave the remaining mix in the covered container and keep at room temperature. Use it throughout the day as needed. Throw away the remainder at the end of each day. Make a fresh batch each day.
Quantity
10g per stick pack (30 packets)
Certified organic, chemical free, fragrance-free, this balm is housed in a hygienic tube that delivers long-lasting replenishment. It is BPA-free, SLS-free, paraben-free and free from artificial colors. Along with other products in the OC kit, it helps to maintain good periodontal health.
Ingredients
Beeswax, coconut oil*, organic extra virgin olive oil*, sunflower oil*, natural flavor, vitamin E, lanolin, rosemary extract, titanium dioxide (*organically sourced)
Why it's good for cancer patients
It is an ultra-hydrating botanical rich blend of science-backed moisturizers that deeply nourishes treatment-induced cracked or dry lips. Regular use ensures healthy, soft lips during treatment and through survivorship.
BPA-free
SLS-free
Paraben-free
No artificial colors
How to use it
Apply over lips throughout the day as many times as needed. The lip balm is created for external use only.
Quantity
0.15oz
The OC candies contain Xylitol that prevents dental decay by reducing the number of cariogenic and periodontopathic bacteria, plaque levels, teeth erosion, and gingival inflammation. Xylitol works as a great sugar substitute because it is low in calories and has a negligent effect on blood sugar which means it won't lead to a sugar high or a sugar crash; it is safe for diabetics. Along with other products in the OC kit, it helps to maintain good periodontal health.
Ingredients
All-natural xylitol, added natural flavors
Why it's good for cancer patients
OC candies contain Xylitol that stimulates saliva in the mouths of patients suffering from dry mouth, as a result of cancer treatment. The lemon and sour cherry flavors are specially great for stimulating saliva and the ginger flavor helps with nausea and saliva stimulation.
Available in 3 flavors
Vegan
Gluten-free
Sugar-free
Soy-free
Wheat-free
Dairy-free
Certified Non-GMO & Kosher
Safe for diabetics
How to use it
Use the Xylitol candy 3 to 5 times a day, immediately after meals or snacks for maximum benefits. Ideal serving size is 2 pieces. The candies are not suggested for children under the age of 5 as it can be a choking hazard.
Nutrition Facts
Servings About 25, Serv. Size 2 Pieces (2g), Amount per serving: Calories 5, Total Fat 0g (0% DV), Sodium 0mg (0% DV), Carb. 2g (1% DV), Sugar Alc 2g, Protein 0g, Total Carb. 2g (1% DV),
Quantity
28.35 g per packet, 3 packets in a box (Flavors: Sour Cherry, Lemon, and Ginger)
Caution
Choking hazard for children under the age of 5. Not safe for dogs and small animals.
FAQ
What are the flavors of the dry mouth candies?
The Dry Mouth Candies are available in three flavours - Sour Cherry, Lemon, and Ginger.
Can I use the leftover mouth rinse mix on the next day?
No, we do not recommend using leftover mouth rinse the next day. Make a fresh batch each day.
How long will it take to experience relief?
Results may vary from person to person and are based on the severity and timing of symptoms. We recommend using our products for at least a month to experience the full benefits of symptom relief.
Are the products safe to use by a non-cancer patients and kids?
Yes, all (un)cancer products are generally safe for non- cancer patients and kids aged 6 onwards. Please note that some of our products are processed in a facility that also processes nuts and oils. Please check the ingredients on each product to make sure you are not allergic to anything it contains. If you have an allergic reaction, please stop using the product immediately and seek medical attention. While we take steps to minimize risk, please be advised that a rare cross-contamination may occur, as factors beyond our reasonable control may alter the formulations of our products. If you have any further questions, drop us a mail at
help@uncancer.com
.