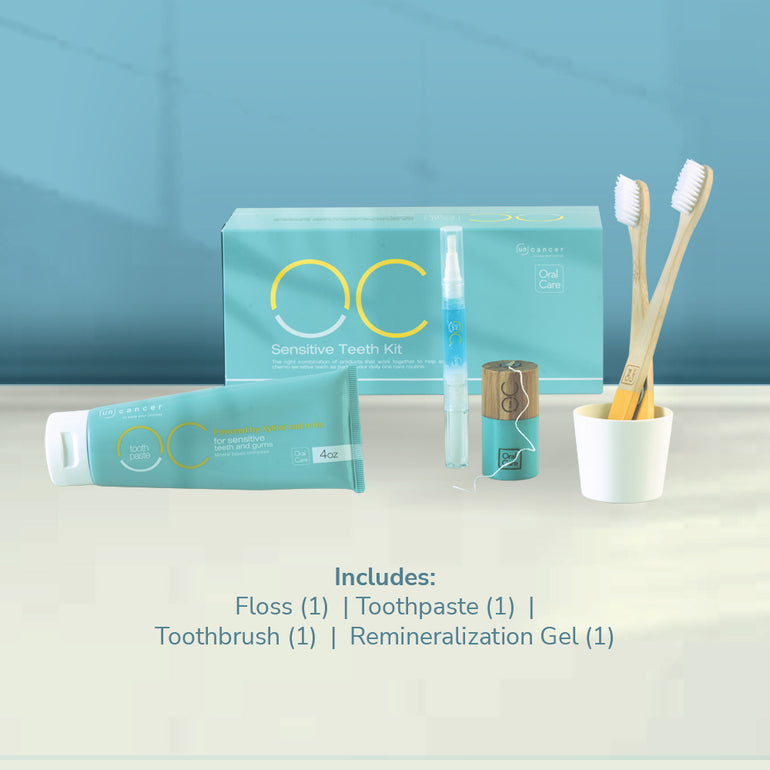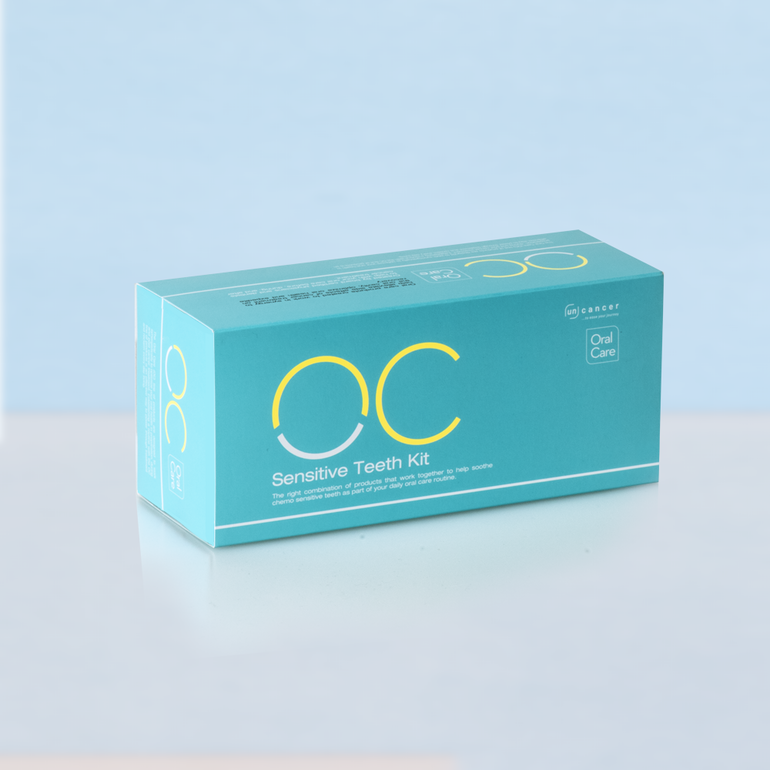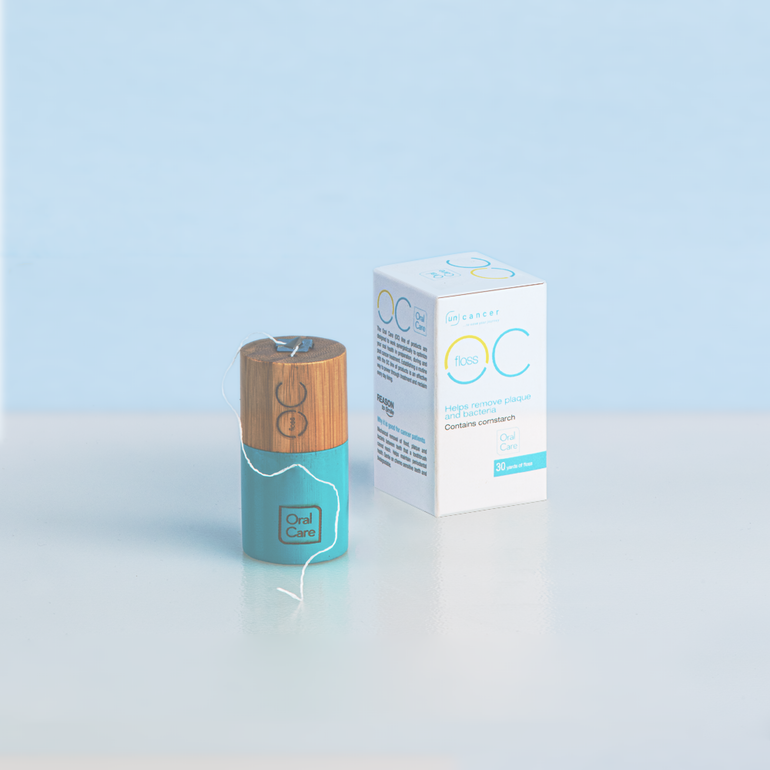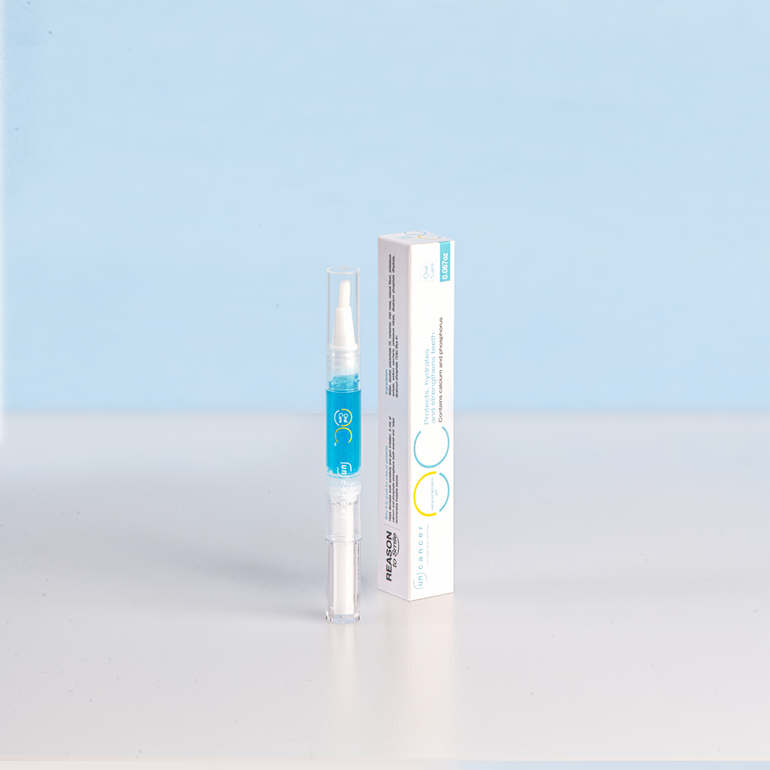 The OC Sensitive Teeth Kit contains 4 products that are designed to work synergistically to relieve tooth sensitivity and help rebuild a healthy oral cavity, during and post cancer treatment. Establishing a routine with the OC Sensitive Teeth Kit is an effective way to power through treatment and reclaim everyday living.
What's Inside the Kit
Floss

Toothpaste

Toothbrush

Remineralization Gel
This all-natural corn starch floss helps with mechanical removal of food, plaque and bacteria. It is biocompatible, biodegradable, and along with other products in the OC kit, helps to maintain good periodontal health.
Ingredients
Cornstarch, natural wax, reusable bamboo container
Why it's good for cancer patients
The floss is designed with extra care to accommodate chemo-sensitive teeth and gums. It minimizes discomfort and helps maintain optimal oral hygiene while undergoing cancer treatments.
Biodegradable
BPA-free
Sugar-free
No artificial colors
Reusable dispenser
No artificial flavors
Vegan
Gluten-free
How to use it
Follow flossing with brushing if you have been doing it previously. If you have not previously flossed, please check with your dentist before starting. Thread the tip of the floss through the small round hole in the lid of the container so you have it ready to use. Wrap the ends of an 18-24 inch piece of floss around your fingers leaving about 2 inches between. Gently glide the floss between your teeth to the gum line. Floss both sides of each tooth thoroughly with a clean section of floss.
Quantity
1 Pc, 30 yards
A proprietary 10% nano hydroxy toothpaste that strengthens, remineralizes, and repairs tooth enamel. The OC toothpaste also helps neutralize mouth acids and optimize mouth pH balance. It works synergistically with other products in the OC kit, it helps maintain good periodontal health.
Ingredients
Sorbitol, water, glycerin, hydroxyapatite, hydrated silica, xylitol, calcium carbonate, cocos nucifera (coconut) oil, sodium, benzoate, potassium sorbate, cocamidopropyl betaine, stevia rebaudiana leaf/stem extract, xanthan gum, mentha piperita (peppermint) oil, mentha viridis (spearmint) leaf oil, gaultheria procumbens (wintergreen) leaf oil, menthol
Why it's good for cancer patients
Its SLS and fluoride-free formula has been specially formulated for chemo-sensitive teeth and gums. Hydroxyapatite is an effective anti-adhesive agent that prevents bacteria from binding to the tooth surface thus minimizing plaque formation. Xylitol in the toothpaste inhibits the growth of cariogenic bacteria, increases saliva flow and reduces tooth erosion which decreases teeth sensitivity.
Fluoride-free
SLS-free
Paraben-free
No artificial flavors
Vegan
Gluten-free
Sugar-free
How to use it
Put a pea size amount on a soft toothbrush and brush for 2 minutes after flossing and rinsing. Brush after meals and before bed daily.
Quantity
4 Oz
Caution
Use only as directed. If irritation occurs, discontinue use. Keep away from pets.
Lightweight and biodegradable with soft bristles and an ergonomic handle that allows all abilities to grip it with ease. The bamboo handle also has antibacterial properties. Along with other products in the OC kit, it helps to maintain good periodontal health.
Ingredients
Bamboo handle, nylon bristles
Why it's good for cancer patients
This toothbrush is optimized for use on chemo-sensitive teeth and gum tissue with soft bristles that are extra gentle on the teeth and gums. The handle feels light in the hand and is easy to grip. The environmentally friendly design allows you to replace the toothbrush as often as needed, including after each chemotherapy cycle to prevent oral infections.
No artificial colors
Biodegradable
BPA-free
How to use it
Gently brush for at least 2 minutes covering each section of the mouth and every tooth surface after each meal and before bed. Rinse the toothbrush with running water for 30 seconds, dry with a paper towel and stand it upright after each use. Review with your doctor or dentist about how often to replace your toothbrush.
Quantity
1
A mix of calcium and phosphate, it strengthens tooth enamel and acts like a 'top coat' to protect and hydrate teeth. Along with other products in the OC kit, it helps to maintain good periodontal health.
Ingredients
Water, alcohol, polysorbate 20, carbomer, irish moss, natural flavor, potassium sorbate, sodium saccharin, potassium nitrate, dicalcium phosphate dihydrate, dicalcium phosphate. FD&C Blue #1
Why it is good for cancer patients
This gel helps remineralize invisible lesions, revitalize the tooth enamel, decrease tooth sensitivity and gum irritation, which can arise due to chemotherapy and radiation therapy.
BPA-free
Vegan
Gluten-free
How to use it
End your oral care routine with the remineralization gel. Twist end to dispense product and paint a thin layer of the gel on the teeth using the pen applicator before bed time. Leave on for 10 minutes and then rinse your mouth with water and spit. Do not use the remineralization gel more than once every 24 hours. Do not use more than 14 days consecutively in a month. Take a 7-day break after 14 days of use.
Quantity
0.067oz
Caution
Do not use it more than once every 24 hours. Do not use more than 14 days in a row. If symptoms persist or worsen, consult your doctor. Avoid swallowing. Avoid contact with eyes.
FAQ
How long will the remineralization gel last?
A single tube of remineralization gel should last you for one month
Is the floss gentle enough for daily use?
Yes, it is! You can make it a part of your daily oral care routine.
How long will it take to experience relief?
Results may vary from person to person and are based on the severity and timing of symptoms. We recommend using our products for at least a month to experience the full benefits of symptom relief.
Are the products safe to use by a non-cancer patients and kids?
Yes, all (un)cancer products are generally safe for non- cancer patients and kids aged 6 onwards. Please note that some of our products are processed in a facility that also processes nuts and oils. Please check the ingredients on each product to make sure you are not allergic to anything it contains. If you have an allergic reaction, please stop using the product immediately and seek medical attention. While we take steps to minimize risk, please be advised that a rare cross-contamination may occur, as factors beyond our reasonable control may alter the formulations of our products. If you have any further questions, drop us a mail at
help@uncancer.com
.